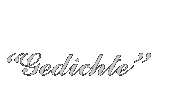 "Muse"
The light of the stars,
shining on me,
illuminate so softly the place,
I stand right now,
to hear the voices of the past,
I will remember,
I will remember,
and a smile come upon my face ...
Dark is the night,
but I have no fear,
looking high above,
I feel you will be near,
when I need you most,
the touch of your hand,
I'm save,
I'm save,
I can feel you're coming close ...
Your are not lost and gone,
I embrace every single memory,
you gave to me so long ago,
nothing will ever come between us,
and may time goes by,
like a thousand years,
I still will find you,
somewhere,
out there,
on a place,
we both only know ...
Copyright: Achim Tober
back